Video: Project Life Organization.
Hello! Today I have something a bit different.
I have decided I am going to take on Project Life memory keeping… but do it my own low-pressure, stamping-filled way. I promise I (and my blog) will remain very focused on cardmaking, but I hope to share Project Life scrapbooking once in awhile.
I recently posted on Instagram a photo of one of my Project Life storage pieces and got a lot of questions. So I decided to throw together a quick video showing some Project Life storage pieces.
The first piece wins the award for "cutest storage"…
This piece is the "I Could've Been a Container" Desk Storage piece from The Land of Nod. (I LOVE LOVE LOVE this store and the playfulness.) It is adorable and comes in several colors. It measures approximately 10.5″ wide x 7″ deep x 6″ tall. You can find it HERE – just search on "container" and it will pop up.
This next option is my favorite. I will use the cute one above for my desktop, but this is the one I will likely use for all the basic storage and store it in my Alex drawers from Ikea…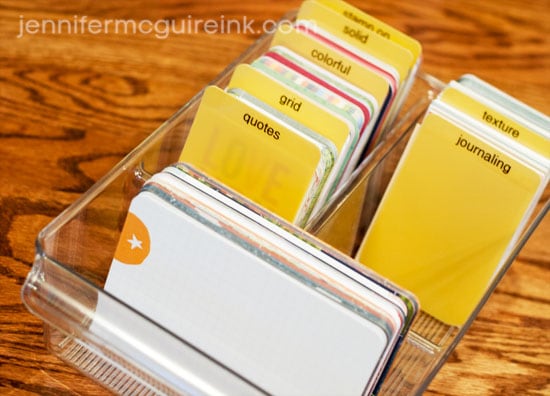 This storage piece is divided into three compartments. The back two are great for 3×4 cards and the front is good for 4×6 cards or photos. Note that I don't have enough cards yet to fill this. It has a lot of room! Here is a better look…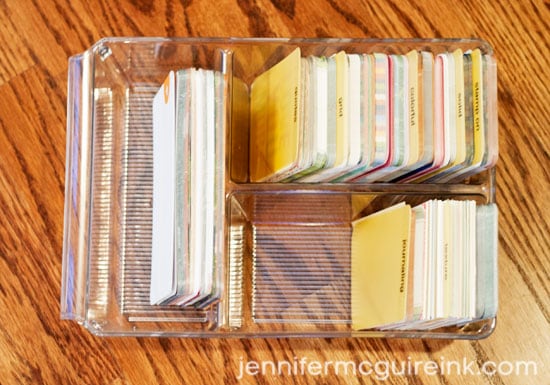 This container is incredibly durable and so very awesome. I use the same one for many things in my office… and the same brand for my stamp storage (which you can see HERE). You can find this piece HERE and it measures approximately 8″ wide x 11.5″ deep x 3.5″ tall.
Next up is a long and narrow option. This would be great if you want to have something good to line up one by one…
I use this long and narrow container for many things in my craft room… and it works perfectly for PL cards. You can get the updated version on this container HERE (which I think would be better) or the same one I used HERE. This one measures approximately 4″ wide x 14″ deep x 4″ tall.
The last option is this smallest one…
This container allows the PL cards to be stored sideways and would be a good option if you have a shelf with limited height. (Note that my dividers are too tall – I just used the ones from the other containers.) You can get this smaller container HERE and it measures approximately 5″ wide x 12″ deep X 3″ tall.
If you are wondering about those yellow dividers, here is a bit more info…
I bought several inexpensive yellow plastic folders from Office Depot and cut them to 3″ x 4.5″. After rounding the corners, I added my label with my handy Brother Label Maker. (You can see how I use this label maker at the 8:09 mark in the video HERE.) This works great!
Again, this Project Life storage is much like my stamp storage, which you can find out more about HERE.
Note: Please visit each site for exact measurements, etc.
Hope this helps! Are you a Project Lifer? Would love to hear your tips!
SUPPLIES