4 Ways to Use Stripe Stamps
Hello!
I am loving stripe stamps lately. Not just any stripes, but clear stripe stamps that allow you to build cool backgrounds. Check this out…
4 Ways to Use Stripe Stamps
#1: Create a Focal Point
Eeek! I love the background on this card. I just stamped the stripes first in dark pink, then in light pink… allowing them to cross in a focal point at the center.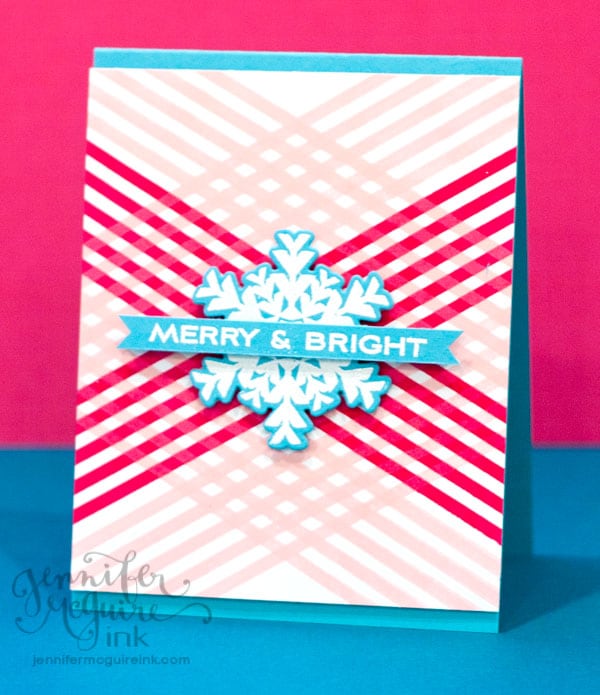 The new My Favorite Things Striped Background stamp set makes this easy. One of the images is five lines together. I first stamped them in an "x" with Razzleberry Ink and then four times with Pink Lemonade. So fast to do! I finished it off with a white heat embossed snowflake and greeting.
By the way, the Footed Stamp Press is REALLY helpful with lining up stripes.
I love the look of the ink where the dark pink and light pink overlap…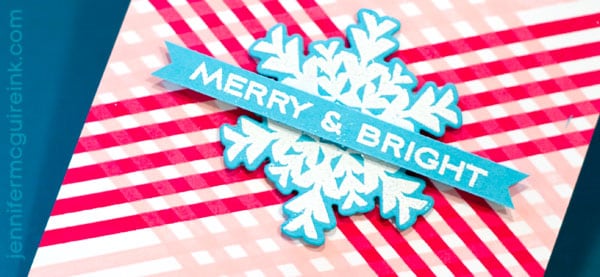 #2: Use With Masking
Masking stamped stripes allows you to stamp anything around them and still have a crisp and clean look…
Here I used the same My Favorite Things Striped Background stamp set and stamped the crossed lines with Blu Raspberry Ink. I then used my new 3M Masking Tape to mask off the stripes and then added My Favorite Things Sophisticated Snowflakes with Berrylicious and Sno Cone Inks.
The greeting is so perfectly sweet – it is from the My Favorite Things Stylish Friends set and stamped with Nightshift Blue Ink. And the glittery doodads? Those are the fabulous BasicGrey Glitter Candy Button Dots.
I decided to do another version of this card, but this time stamped the stripes with a light ink so that the greeting could be stamped on top…
#3: Go Simple and Graphic
Go simple! Go bold! Just stamp stripes with fun colors and add a perfect sentiment…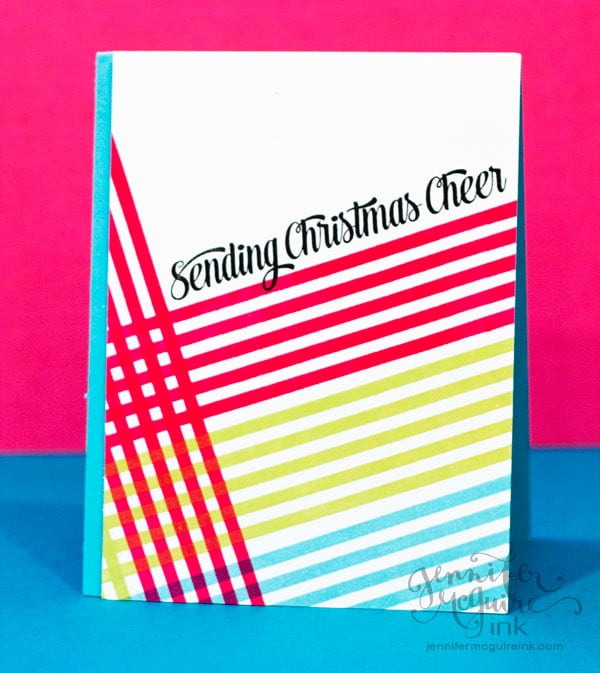 Again, I used the My Favorite Things Striped Background stamp set… stamping it in Razzleberry, Blu Raspberry and Sour Apple Inks. I topped it off with a fun greeting in crisp black ink.
Simple!
#4: Create a Plaid
Stripe stamps are perfect for creating colorful plaid patterns. I have been a fan of Laura Bassen's plaid stamping for a long time now and had intended to do that here. However, I ended up going with a tone-on-tone plaid… that you can barely see! lol…
The plaid stamping is actually on the red inside the card. (More on that in a second.) The front of the card has a window that allows the plaid to peek through just a tad.
The greeting piece is from the My Favorite Things Banner Greetings stamp set and is silver heat embossed on navy cardstock. See the notecard background? Eek! I love it. It is the new BIG square My Favorite Things Woodgrain Background stamp. It can be stamped horizontal or vertical! Woot! The green star is just die cut, covered with Wink of Stella and finished with Glossy Accents. Here is how the pieces "float" across the star window…
And finally… the tone-on-tone plaid stamping I created with the stripe stamps. I love this subtle look! The panel is glued to the inside of the card, with room to write a message on the top.

Here is the striped stamp set I used. Having the stripes together on one image makes stamping fast and easy…
And there you have it – 4 ways to use stripe stamps!
Enjoy.
SUPPLIES
Below are the products featured above. To find them at Simon Says Stamp, click on the SSS below the thumbnails. For Ellen Hutson, click on EH and for My Favorite Things, click MFT…