Hello!
Today I have another video for you that I created for Simon Says Stamp in celebration of their STAMPtember® event. I show how to use one stencil (the SSS Make a Scene stencil) three ways…
I will admit: I have been hesitant to jump on the stencil bandwagon. Although people love stencils with mists, I am not great at using mists. (It is kinda like how I am with washi tape – I love what other people do with it, but it just doesn't work well with me. No idea why.) So I wanted to come up with some non-mist stencil techniques. Here goes…
3 Ways of Using 1 Stencil
 #1: Stamping in the Stencil
Stamping! Just stamp over or in the open part of a stencil…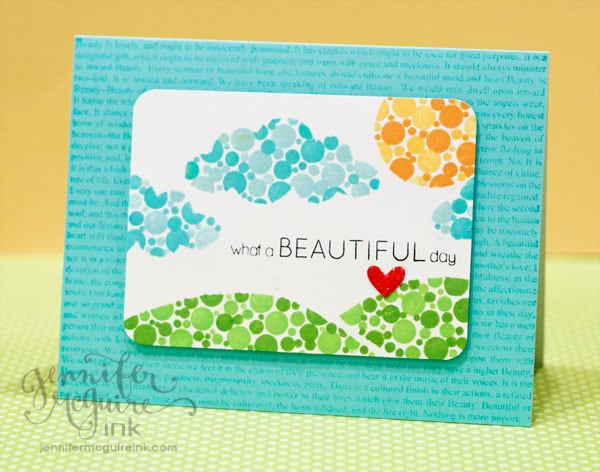 This is similar to a technique I showed a few days ago… which I really enjoyed doin. I used the Lots of Dots stamp set and some Hero Arts Inks to fill in the open areas of the Make a Scene Stencil. Takes a bit of time but seems to be well worth it. You could use any tiny stamp images for this (a lot of stamp sets have them!) or just stamp firmly over the stencil with a background stamp.
Oh, and that cute little heart? I just made her by die cutting red paper, adding some Wink of Stella shimmer and then a coat of Glossy Accents. This is my favorite DIY embellishment technique!
#2: Inking Over the Stencil
Inking over a stencil seems obvious. However, I think HOW you ink over the stencil makes a big difference…
Hands down – my favorite way to ink over a stencil is with Distress Inks and an Ink Blending Tool. These inks were designed to blend well. This makes them perfect for filling in stencils and giving a nice defined edge. And? It is super fast and easy. (And I think is a awesome that this stencil also has a set of the opposite pieces so you can mask!)
By the way, isn't it fun to go bold with greetings? I used the SSS So Beautiful stamp set to build this greeting. Easy and fun to do. (Especially if you have the Martha Footed Stamp Mount.)
That background stamp is from Impression Obsession. It is great because you can stamp a background on horizontal or vertical cards. And the butterflies? I used the same technique as the heart above.
#3: "Paste" In a Stencil
There are many "paste" type products that you can use over stencils. When dry, it leaves fun dimension and texture. Here, I used metallic Ferro, which is my favorite.
Ferro is easy to use and gives great results – perfect with any stencil. The silver (clouds above, and also shown HERE), graphite (moon) and gold (seen HERE) are my favorites.
For these die cut stars, I used the Gold Wink of Stella pen and covered with Glossy Accents… again.
If you like the look of "paste-like" products, I also recommend Embossing Paste, which can be colored after it dries.
There you have it – 1 stencil, 3 ways. For more STAMPtember® fun, head to the Simon Says Stamp blog.
SUPPLIES