3 Reasons to Love "The White Pen" + Giveaway!
One staple every crafter should have is "The White Pen." Not just any white pen, but the Uni-ball Signo Broad White Pen. Wanna know why? Here are three reasons…
Reason #1: It's great for highlighting stamped images.
I am constantly inspired by how my dear friend Kathy Racoosin uses a white pen. With simple dots here and there, she makes a card come alive. (Check out some good examples here, here and here. In fact, I even love the white pen action on the butterflies in her blog banner!)
So, when I saw the new Calico stamp set from Paper Smooches, I thought it would be fun to trace the flowers with white dots. Now my handiwork isn't nearly as perfect as Kathy's, but I was working against time. (I craft during Lila's naps.) I still do like how it makes the flowers pop off the kraft notecard…
As always, I stamped the three flowers using Hero Arts Raspberry Jam Ink in a triangle formation. (Always a triangle – usually two closer together – visually pleasing.) I added little flowers with Bubblegum Ink and leaves with Green Hills. (I love how these inks become so deep when used on a kraft notecard.) Then I used a white pen to "trace" the flowers with dots. I did a fast and sloppy job with the dots, but it still looks ok. (Imagine how awesome it would look if I did a better job – lol.) I used a t-ruler to draw the finishing white lines.
I then added the *awesome* thanks die cut in black and covered it with Glossy Accents. For the flower centers, I used White Enamel Accents…
By the way, this flower stamp set is new from Paper Smooches. I was tickled to see that you could either buy it or get it free with a $60 purchase over on the PS site. They released some of fab stamp sets yesterday – you can see them all on their blog. (The stamps are also available at SSS.)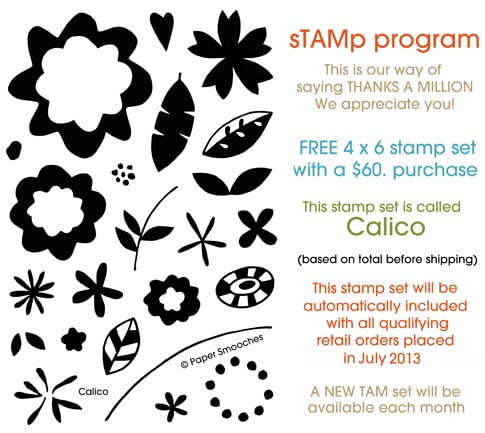 Reason #2: It's great for bright white coloring.
Obviously, this pen is great for turning things white – very white. But you can get creative with it, too. Here I turned the wood veneer stars and wood veneer fence white. I even added the lights to the trees. Bright white – love it. And so much easier than getting out paint…
Reason #3: It's perfect for fixing poor white heat embossing.
I will admit it – sometimes when I white heat emboss an image, I doesn't completely emboss. That is no problem, thanks to the handy white pen. I simply use it to fill in any areas that are missing.
For example, I used a mirrored stamping technique to get the reverse of the fish on this card. The resulting mirrored embossed image wasn't the best – quite splotchy. I simply filled it in with a white pen and no one will ever know…
There you have it – 3 fun uses for "The White Pen." Enjoy!
GIVEAWAY
I was telling Kim over at Paper Smooches how much I love the new Calico flower stamp set I used above, and she said I could give one away! For your chance to win, just leave a comment here by 7/9/13. Good luck!
SUPPLIES
Below are the supplies used for this card. To find them at Simon Says Stamp, click on the SSS below the thumbnails. For Ellen Hutson, click on EH…