Free Printable Card Downloads
As I am sure many of you were, I was horrified watching scenes of the destruction caused by the tornadoes in Oklahoma last week. I was most upset seeing the school torn apart. But from every horrible story comes a bit of hope or a hero. I was so impressed to hear stories of teachers taking action to protect their students. They saved many lives.
And if you have been to my blog before, you know that I am a huge fan of teachers. After volunteering many times in my son's classes, I know these teachers work VERY hard and make a true difference in our kid's lives. They have my compete admiration.
So when watching the news, I struggled to figure out what I could do to help those in Oklahoma. After all, I just make cards. So… I decided to create printable teacher cards to give here as downloads. I was going to collect the money and donate it, but feel it is easier for everyone if I just offer the download for free and ask that you donate to the Red Cross directly. So this is kinda like an "honor system" – I hope you enjoy the download and donate as a thank you.

Isn't that apple the cutest? A big thank you to Hero Arts for letting me use the image for this download.
These printable cards are super easy – just print, cut, fold and color. There is a faint grey line that you cut along with a trimmer and then just fold it in half. I rounded the corners and punched three holes to make it look like notebook paper. (You can skip this if you want.) It also prints "made with love and appreciation" on the back. You can either color the apple directly on the card… or color the extra one, cut it out and pop it on the card for dimension. I colored mine with Copics and covered with glitter marker…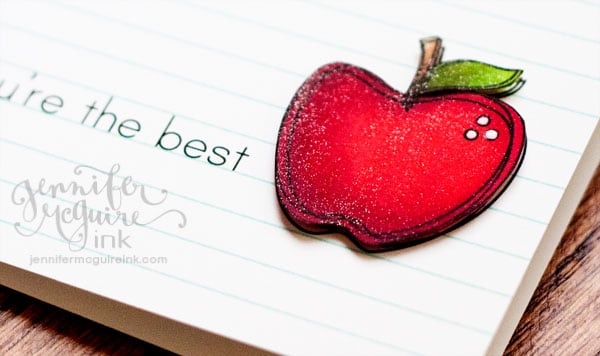 I have four printable card options. One is blank so all of you with a bit of computer experience can add your own teacher's name…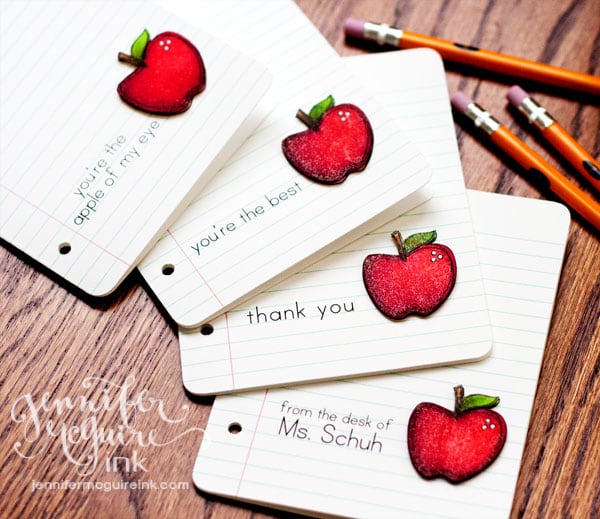 I made 16 of these and packaged them with envelopes in my favorite clear boxes to give as a teacher gift. I love giving card sets…

Don't have a printer? That's easy. Go online and load the file to Kinkos. They will print as many copies as you want and you just pick them up!
I am sure school has ended for many of you, but you can always save this download for next year. And if you don't have kids, you can still use this! Give it to a local school to thank them for taking care of kids in your community. Or take it to a Sunday School teacher. You could even surprise your favorite card making teacher. 🙂 In fact, the "apple of my eye" card could work for anyone.
Here are the downloads. Just open, right-click and save…
And, please… please donate to the Red Cross to help those folks rebuild in Oklahoma. It is easy to do! In fact, you can even just text REDCROSS to 90999 to give $10 to American Red Cross Disaster Relief immediately. So easy. (And if you have already donated, thank you! Enjoy the downloads.)
Have a great week. Oh, and big hugs to those of you in Oklahoma… and all of you teachers.