Clear and Cling Stamp Storage – Update
Hello stampers.
Awhile back I shared a bit about how I am currently storing my clear and cling stamps. (You can see posts on it HERE, HERE and HERE.) This system has evolved over the years… and I am finally at a place that I am 100% happy with. I have also recently discovered a few new things that I thought you all might like.
Avery Elle just came out with new stamp storage pockets that I think are pretty awesome. They fit clear and cling stamps perfectly – measuring approximately 7.25″x5.5″ – the same as the Office Depot CD sleeves I have been using. (More on that below.) Here are both…
But I just discovered these stamp storage pockets… after I finished reorganizing my stamps. (Perfect timing, eh?) So… all of my stamps are currently in THESE sleeves from Office Depot. (I just carefully cut down the center to make single pockets that are the same size at the Avery Elle pockets.) These have worked wonderfully for me. Wonderfully.
Both of these pockets are good options. The Office Depot sleeves I use are quite a bit thicker than the Avery Elle pockets and have a bigger flap on the back, making them perfect for me since this is my job and I am in and out of my stamps a lot. (I may eventually switch the the new Avery Elle pockets… but that is quite a big task since all of mine are already in the other.) On the other hand, the Avery Elle pockets are smooth and designed to hold stamps. The cost is pretty close, with Avery Elle being a bit lower in price.
How about a closer look at the options? Here is an Avery Elle stamp storage pocket. You can see it is clear, thin and has a small flap on the back that would be tucked in. So clean…
The Office Depot sleeves are thicker and have a bigger flap that doesn't need tucking in….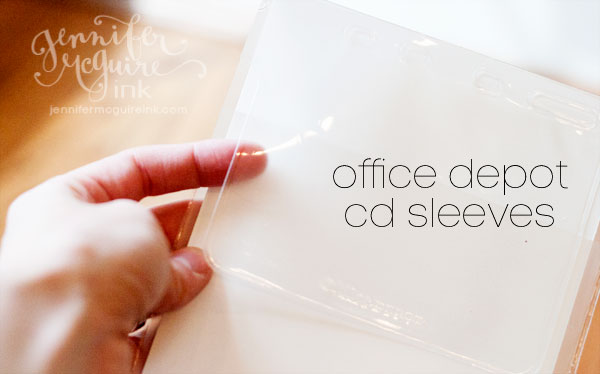 The verdict? Both are good. But if you are just starting organizing your stamps, I would start with the Avery Elle pockets. I think they are great for normal use.
Awhile back I also shared one of the greatest finds of all time – the container I store my stamps in. And yes – this would hold either of the sleeve options perfectly. These containers are actually "Fridge Binz," meant to hold soda cans. No soda in my house, but man are they perfect for stamps…
These also fit dies (Sizzix, etc.) perfectly. So durable and sturdy – not a wimpy plastic thing…
My clear and cling stamps are stored in pull-out drawers in cabinets in my new studio. (I promise to share more of my room when I get everything in there. I hope it is someday soon!)
And, yes, I am crazy and must have every stamp set labeled. I love the Brother Labeler. (There are ways to change the setting so it doesn't waste tape – just google it.) This labeler is my best friend…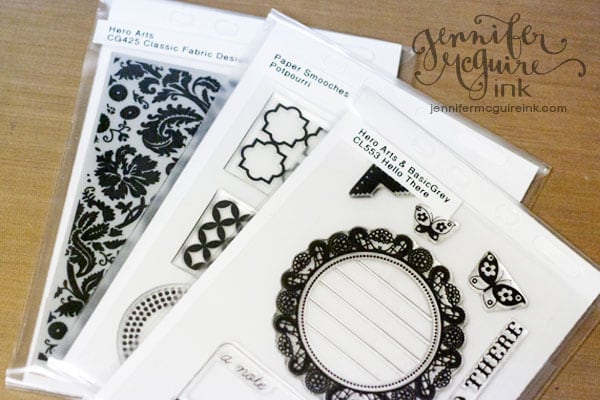 So there we have it – my current stamp storage that makes me so very happy. Very happy. Hoping maybe this system works for you!