Hello!
If you follow me over on Instagram (I am HERE and love it there) or Twitter (I am HERE and love it there, too – not a Facebook fan), you may have seen that I am currently finishing up my new studio/craftroom/oasis/office. When we did our remodel last year, my husband and family convinced me to make a nice new room upstairs since this job/passion is important to me. (Yep. They rock.) I am neck-deep in transferring everything, but have found some pieces that I LOVE and thought you might too.
The first few are from The Land of Nod. I noticed they have free shipping today – 1/9/13 – the perfect time to check them out. (You can find out more HERE.) The Land of Nod is an amazing kids deco store, but I have also found amazing pieces for my office there.
First up, I adore THIS adorable container. It is hands-down my favorite. You can mount it on the wall or put it on your desktop. I have 6 of them. (Yes I am nuts.) I have one on my desk all the time… two in a drawer for additional tools… two in a cabinet for Distress Markers and such… and one for Colin's markers. I love that it is tilted and can be hung if I wanted it to. Cute, eh? (For free shipping, head HERE.)
Here is mine on my desk. Forgive the bad iPhone photo, but you can get an idea of what I keep in it. All my necessities…
There are a couple other pieces I just got at The Land of Nod, too. THIS one is great – you can easily pick it up and take to your table. Mine holds pearls and gems as I reach for them often and want something I can bring to my work area. Would be good for Copics, too. (Free shipping HERE.)
And for all of you doing Project Life, I hear THIS piece is great for it. You can easily fit lots of photos and cards in it. I am ordering one for my unfinished cards. (I often do a card halfway and quit – will be a great place to keep them for future use.)
I am considering some of their bins and baskets, too. You can see all their fun storage HERE. I have been pleased with their quality and service. Makes me happy. (Remember – free shipping 1/9/13 only – head HERE.)
THIS next one is going to be attached to the inside cabinet door of my desk… to hold my paper trimmer. It is from The Container Store. The Fiskars SureCut Trimmer fits nicely in it and it is a great way to tuck it away. It is magnetic so I can also stick a few must-have dies on it too. Comes in white, too, but I got the stainless…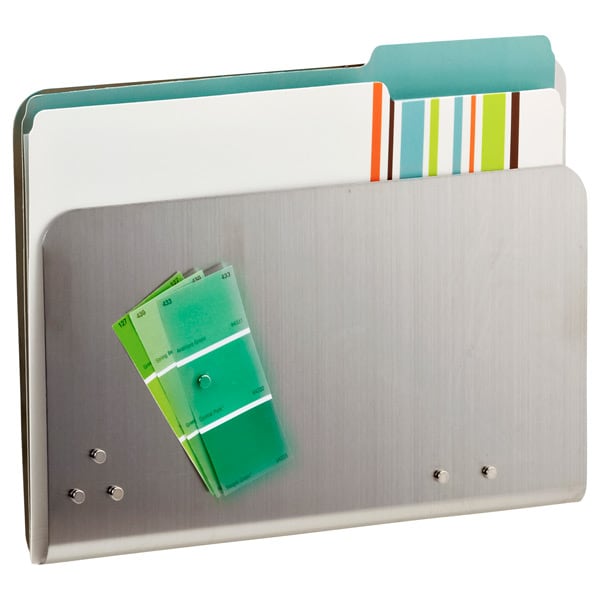 Here it is with the trimmer in it. I haven't attached it in my cabinet yet so I am just holding it up…
THIS is another doo-dad I love in my office. It stays on my desk (I have 3 of them) and holds any stamp sets I want to remember to use or pieces that I have saved for something. A fun little guy…
And here is one of mine…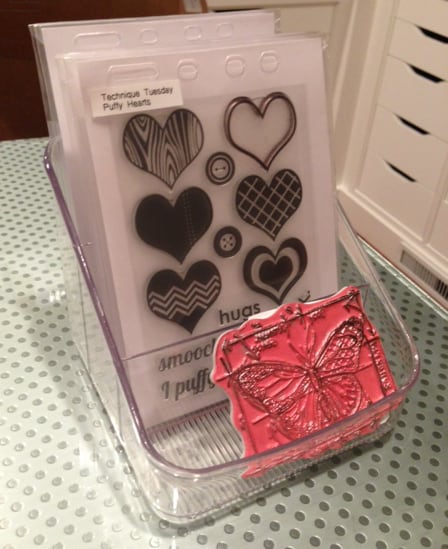 (ETA: You can see more about my stamp storage HERE.)
There you have it – just some fun storage shares for ya.
Some folks have asked if I will show my completed office here. I likely will, but with the speed I am going, it will be awhile. 🙂
Happy weekend!