Furry Friends, Inktense Pencils + Video
Hello! Today I am playing along with my friends for a mini blog hop… where we all use a fun new stamp set – the Simon Says Stamp Furry Christmas. Let's start with a video…
So here is a closer look. It has my dog Roxie (in the back), Kathy's dog Max (on the left) and Kristina's cat named Mannie. Cute, aren't they? It was so fun to sit next to Kristina as she created it. I admire her tremendously.
In the video I show how to use Inktense Colored Pencils…
These Inktense Pencils are unique – much like watercolor pencils, but with a firmer texture that allows them to be more intense in color… much like a paint or ink. Thanks to their intense pigment, you can even use it like watercolor on a colored cardstock, such as kraft. I find using them on watercolor paper or white cardstock so wonderful… so much easier than traditional watercolor pencils and with much more vibrant results. However, you can use many of the tips I mentioned in the video above with normal watercolor pencils.
By the way, if you are looking for something to put on your holiday wish list… these pencils would be a treat.
And here is the Furry Christmas stamp set. So cute…
For the background, I used this awesome set from WPlus9. It is great for building awesome backgrounds. I love the look of white pigment ink on the kraft cardstock.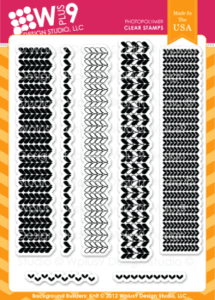 Oh, and this is what Roxie looks like. She is a Vizsla and just rocks.
Thanks for stopping by. Be sure to also visit my friends – Kristina, Jana and Kathy. They all used this same stamp set today.
Enjoy!