Hello!
I was thrilled to see the newest dies from Memory Box in stores. Why? Because they included three great alphabet dies set – the Typewriter, Classic and Parker. I immediately had to put these awesome sets to use.
Here is the first card I did. It shows the Typewriter set in action. (I gave this to Kay before she left on our church mission trip.)
Aren't those letters just perfect? I LOVE the idea of dies for letters instead of stickers. You never run out of a letter and you can create them in an color you want.
For some extra fun, I covered my die cut letters with glitter. But not just any glitter – I used me favorite: Glitter Ritz Stardust. This color looks like a vintage silver glitter… not too shiny… with a bit of an aged feel to it. And since it is microfine, I just burnish it onto the double-sided tape. This results in some subtle shine…
Covering the die cut letters in glitter is simple. I first stuck some of my favorite double-sided tape onto white cardstock. I then die cut the letters and added the glitter. Easy… with fun results.
HERE is that vintage-silver glitter I like so much…
I also used THIS great herringbone stamp that I shared earlier this week.
And of course the alphabet die set HERE…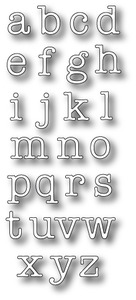 By the way, there are uppercase version of these dies… and numbers, too!
I will be back soon with cards using the other die sets. See you then.