Lawnscaping Challenge, Cool Link and Giveaway
Hello there. Hope you had a good weekend.
I have a few fun things to share today. First up is my second card for the Lawnscaping Challenge. These folks have the happiest blog – you can find it HERE. This is their photo challenge:
So this stunning photo inspired me to actually create a holiday card… using the browns and reds…
I used Lawn Fawn stamps for the ornament and greeting. Love the playfulness of them. Used a new favorite background stamp on the dark brown notecard. For the string on the ornament, I had a bit of fun. First, I stuck some Ranger Foil on some white cardstock for stability. Next I used the Memory Box Crisp Bows die to cut it before adding it to the card. I cut the notecard short so that I could allow the bow to reach above the top and still fit in the envelope. Love the unexpected. Oh, and I used my new favorite Corner Chomper – it rounds corners in the smaller sizes of 1/8″ and 3/8″.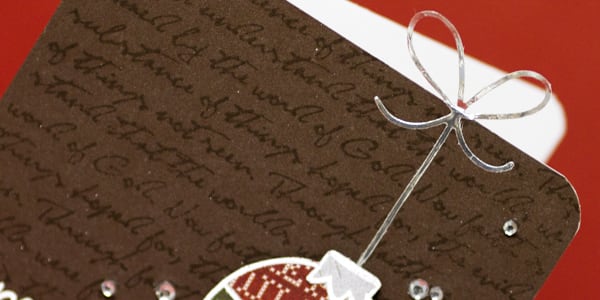 Supplies are below! Be sure to check out the Lawnscaping Challenge, too.

My dear friend Jill Foster has started a great new site with the owner of her LSS, Lisa Joy. Jill is a very talented gal, and this new blog and online store is great – www.ilovemementos.com. I am so impressed by what they have created that I asked to feature them here. Here are some of the great things about Mementos:
Their blog is fabulous. Jill shares tons of projects including step by step video and photo tutorials.  Check out the blog HERE.
If you are looking to shop, they have a create rewards program – for every $250 spent you receive 25% off a future order of your choice. (More info on that HERE.) They also have free shipping on all US orders over $75 and Canada orders over $100. And if you want to shop in the month of November, use the coupon code, Be Thankful, it gives customers 10% off of their purchases made through the month of November. (Does not apply to classes DVDs and Bundle of Savings offers.)
Jill also has created some great DVD classes, with two new DVD classes each month. These projects are amazing and what really impressed me. Here's a peek at this month's Mementos Copic Club class. (It is really great if you are just beginning or have been contemplating purchasing your first Copic Markers).
And Jill also offers a Stamp Club DVD class in which students receive the featured stamp as part of their class fee. (For more info on these classes, go HERE.) Here's a look at this month's class.

So how about a giveaway? Just sign up to follow the Mementos blog HERE and leave a comment on this post for a chance to win.  I'm giving away a $50 gift certificate to Mementos AND a special release class DVD by Jill "Holly Jolly Stampin' Party" loaded with techniques and showing the creation of 10 never before seen holiday cards. If you've already purchased the DVD and you win, Mementos will provide you with a refund.  More info on this DVD HERE.
Good luck!
I also have a winner from a past giveaway… Helen Schneiderman won the Holiday Card Boot Camp class spot. I emailed you!