Happy Friday.Boy, I love those words. 🙂 This has been one of those weeks. So how about some stamping?
I will admit: This hobby can be expensive. So we have to make good use out of the goodies we have, right? For me that means using my stamps in different ways to get new looks.
THIS "Cling Pop" stamp from Hero Arts is so cool. You can pop out the greeting and put in a different one. Cool, huh? Great for card sets.
But I wanted to change it up even more… by covering up that daisy in the corner with a completely different flower…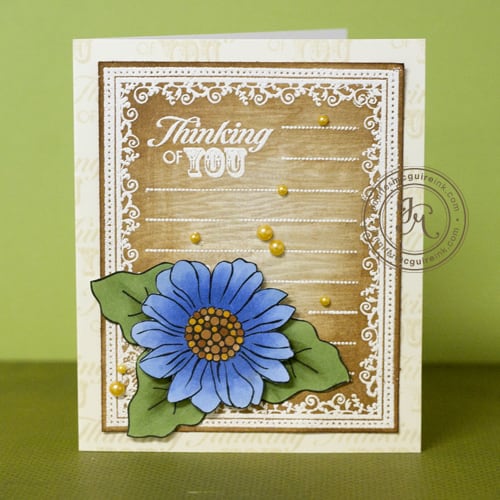 So I white heat embossed the label background on some fabulous Basic Grey wood grain paper. I then used my Ink Blending Tool to add Vintage Photo Distress Ink to the edges to make it pop. Makes a huge difference.
And, since the greeting pops out, I stamped it repeatedly on the notecard's background.
Love new looks for stamps. If you have a card you have done with a "new look," I would love to see it!

I have something you just must check out. It is awesome…
My dear friend (who is in college), Britta, has teamed up with another crafty young gal, Marie, to create a blog focused on young crafters. I think this is such a fantastic thing – we need to bring more fresh, young blood into this hobby! 🙂 They have an awesome blog hop going on now. I highly recommend checking it out HERE.

Interested in some shopping this weekend? 2Peas is having a sale! All orders over $25 get 10% off when you use the coupon code "BIGBOOM" HERE.
Off to veg. Take care!
Card Supplies: