Welcome to Invited Sponsor Ellen Hutson + Organization Tip
Hi!
When I started my new blog, I mentioned that I would be doing some sponsorships. However, these sponsors are very unique as they are by invitation only. By doing this, you can feel confident knowing that if I have invited a sponsor it is because I have respect for them and their products. I only want to promote products I truly love and would select to use myself. I am sure you will recognize these companies and their products as I have been using them here for ages. Having sponsors makes it possible for me to do more giveaways and offer more upcoming perks to my readers. Please be sure to visit the websites of these generous sponsors. I know you will love them, too.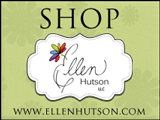 Today I would like to introduce you to one of my sponsors, Ellen Hutson. Ellen Hutson is an online store offering fabulous stamping and crafting products. I have been shopping there for quite some time now.  Why do I love the Ellen Hutson site? Well, here are 10 handy reasons…
(10.) Ellen Hutson has "the CLASSroom" – a blog focused on education and ideas. Ellen's design team shares how-to's on some really great projects. Here are a few of my favorites: Faber-Castell post, cool Copic technique post, and Copic coloring post.
(9.) Ellen Hutson brought Copics to the crafting world. Yes – she is to blame for that addiction! Her site is definitely a must-see and go-to for anything Copic. (To learn about Copics and which colors I like, click HERE.)
(8.) Ellen sells Neenah paper, my favorite white cardstock and the only one I use. You find it HERE and it is a great deal.
(7.) Ellen also has a blog where she shares lots of step photos for very interesting techniques HERE.

(6.) The Ellen Hutson design team has some truly amazing artists.
(5.) Ellen Hutson sells a lot of stamps. A lot. Including Hero Arts.
(4.) Who doesn't love a free goodie now and then in their order?
(3.) Ellen often has guest designers that are fabulous. I loved when Tami Hartley was a guest HERE.
(2.) I really enjoy the products in the "Essentials from Ellen" line – fun products only Ellen Hutson carries. More on this below…
(1.) Ellen Hutson herself is a class act and is known for taking care of people in the industry. I love that.
Now you see why I love Ellen Hutson so much. 🙂 I hope you will consider visiting her site as a thank you for supporting this blog.

How about a quick organization tip? I am constantly trying out new ways to store my craft goodies in a way that is "put away" but also "quickly available" to use. And I LOVE this next system.
I struggled for a long time on how to store my thin dies… and my collection is growing fast. (My favorite thin dies? My Favorite Things and PaperTrey Ink. Oh, and this works great for Spellbinders dies, too.) I had the idea to tape sheets of magnetic paper on the inside of my stamp cabinet doors. Just stick the dies on it and close the door. And it works beautifully and they do stay put…
I used Essentials by Ellen Art Magnetic Masking Material… which is basically very thin sheets of magnetic paper. Since it is lightweight, I just used a few mini glue dots to hold it to my doors. Perfection! If you don't have doors to do this, you can also put them on a wall or in a notebook with page protectors. I just love how easily you can get to them and see them all. And, the price for the magnetic paper HERE is really good to other places I found.
Off to rest. Have a great night!