Distress Stains Giveaway!
Well, many have asked about the new Distress Stains. So, I thought I would (finally) play with them today and, of course, give a set away. 🙂
And I will be honest. I knew I would like the Distress Stains. After all, they offer my favorite product how I like them best – wet Distress Inks. But after playing with them today, I discovered that I really like them. Really like them.
Here is a quick card I just created here at my girls retreat with some crafty friends. With Distress Stains, it was so fast and easy. The reverse flower background is white heat embossed on watercolor paper. I then "colored" over the the embossing with Distress Stains… just dabbing and lightly swooshing the tip of the bottle around. After it dried (which was quick), I wiped away the excess color from the embossing. Quick and so yummy…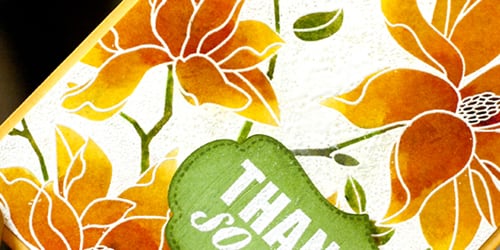 You can also use the Distress Stains right on a stamp instead of a traditional inkpad. I love how it looks on watercolor paper…
So, yes. Get the Stains. You will love them. 🙂
And I have an extra set of Distress Stains for you, thanks to Mr. Tim Holtz. They are lovely, huh? Just leave a comment by Sunday night at 11:59pmEST for your chance to win these…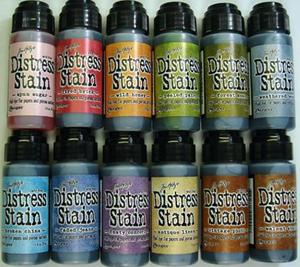 (BTW… I will announce all of this week's winners later this weekend. Good luck!)
Click on images for card supplies: