Hello!
I am heading to Europe tomorrow to meet Ken for a week. Gran and Pa will be staying here – Camp Gran. 🙂 I will share from the road!
In the meantime, just wanted to share some laughs.
When Shari (fellow Hero Arts artist) and I are together, we often get the giggles.
We usually start by taking care of each other…

Then smiling…


Then doing something totally immature…

And that makes us laugh. Hard.
And then we have to get serious. This was a video we did for the Hero Arts blog. But you gotta watch Shari at the beginning. SO funny – we laughed so hard. (And thankfully our boss cracked up too. 🙂
We have such fun.
And it was great having two of my favorite people finally meet – Shari and Kelly.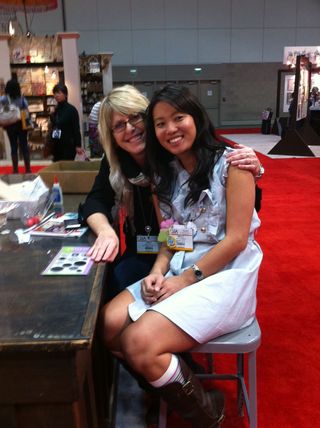 Good times. I love my job.
BTW, the winners of the In The Classroom DVDs from the other day are mommamikki and Vee P. I emailed you!
See you soon – from across the world!