Cards For Kids and Lawn Fawn Blog Hop!
Welcome to the Cards for Kids and Lawn Fawn Blog Hop!

First of all, I gotta give a big thanks to Kelly, the owner of Lawn Fawn Stamps, for putting together this blog hop to support my Cards for Kids efforts. All the cards you will see on this blog hop will be creations perfect for children. And! Kelly is giving away lots of prizes, so be sure to leave comments along the way. If you want to start at the beginning of the hop, click HERE.
Nothing fancy here, but I still hope it will make Kylie smile. Used Lawn Fawn stamps (border for background and greeting), a Memory Box shiny notecard and more…

Supplies: Lawn Fawn stamps; embossing folder; Handmade button; Silhouette cut heart; Memory Box Notecard
(By the way, that shiny card from Memory Box comes with matching envelopes and is 3.5"x5" – LOVE it.)
And, I couldn't stop there. This one is for Emily P. Uses a wood button I have had forever…

Supplies: Lawn Fawn stamp and random buttons.
If you never have seen Lawn Fawn stamps, be sure to check them out HERE. They are made in the USA which means they are super quality – something that is really important with getting good results. Love them… and these are my faves:
 I used THIS set on the post HERE and HERE…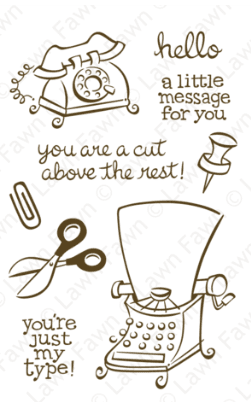 THIS one is too cute, too…

I also thought I would share the card Audrey made Ken for Father's day using this set. LOVE the button apples…

By Audrey McGuire. Supplies: Lawn Fawn stamps and Hero Arts greeting.
Be sure to come back tomorrow – I will be back to my challenge with Joy for Day 3. And, I have some giveaways to some random comments this week… 😉
NOW… to keep going on the blog hop, click HERE to go back to Lawn Fawn.
Have a good one.
PS: The winner of the great necklace from last week is Alice W.