How-To Video: Coloring & Airbrushing (…and links)
Hey, there, stampers.
Since I shared all that Copic Marker info on yesterday's post, I thought I would follow it up with a video.  (However, I promise I won't be only doing Copic stuff all the time now… just wanted get this out there to answer so many questions.)  Even if you aren't interested in the markers, this video has some other ideas, such as faux grass, etc.  (And, no, I don't work for Copic.  Just like them. 🙂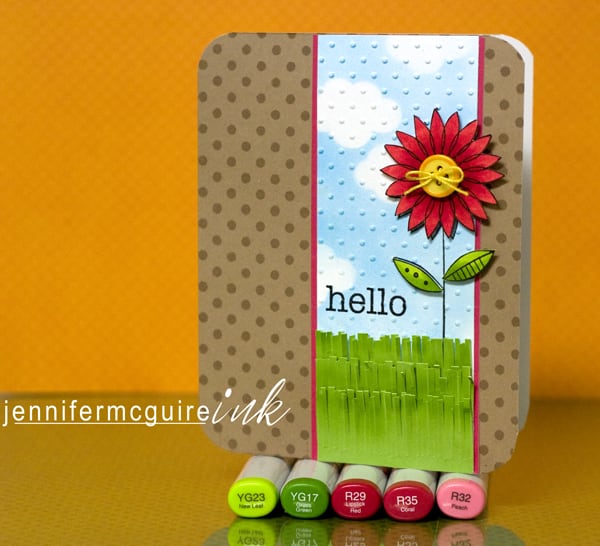 Supplies: Copic Markers (YG23, YG17, R20, R32, R35, R29, YR68; B02); Copic Marker Airbrush Air Compressor System; Silhouette Clouds from Hero Arts; Cuttlebug, Martha Stewart Fringe Scissors; Hero Arts flower, dot background and greeting; Neenah white cardstock; Hero Arts notecard; Memento Black Ink; Corner Chomper 
In the video, I show THESE fun scissors from Martha Stewart.  I wasn't sure if I would like them, but they are wonderful.  Saves TONS of time cutting fringe or grass.  I am using them a lot…
I also show in this video another of my must-have tools – the Tim Holtz craft knife HERE.  This baby is delightful.  I tend to shove things around my desk a lot and the fact that this knife retracts rocks.  And, it has easy replacement blades, which I haven't even used yet.  

And, some links and random bits for you…
Fabulous ribbon flower technique video HERE.  Just love it and so easy to make.  May add some to some pillows.
Pretty cards for a good cause HERE by Vanessa.
Can't wait to see Kelly Marie's new stamp line coming out HERE.  I love any clear stamps made in the US as they stamp sooooo nicely. 
Adorable card from Vicki HERE.  And a great giveaway.  Whenever I am blue, I think of Vicki – the funniest girl I know – and things turn around quickly.  I like people like that.
The Bachelor?  Blech. Clearly so scripted, but I will always watch.  Makes me laugh.  Makes me feel better that I am low-maintenance and have a normal life. :)  No likey Vienna, but wouldn't it be cool if they stayed together to prove everyone wrong?  Who knows.
Next, Dancing With the Stars? Kate?  Really.  Double blech.
Thankfully there aren't more grumpy Simon Cowells in this world – even if he is right most of the time.
Ok.  Off to snuggle with Roxie.  Night night. 🙂