CARDS FOR KIDS – Round 2 Details!
Hello, everyone!
It is time to announce the details of our next Cards for Kids round…
All of the children are the same as the first round, but we have added two more (so far).  The next shipping deadline is March 31 and we have new prizes! 
FOR THE INFO ON THE CHILDREN AND DETAILS ON PARTICIPATING, CLICK HERE.  Prize info will be completed soon.
I wanted to share quickly about our two new children…
This is sweet Karli…
Karli started complaining about her shoulder hurting, which led to the discovery of a mass. On December 15th, 2009 a biopsy confirmed Osteosarcoma – cancer in her upper arm bone.  She has since started chemo and will have surgery.
The family includes:
Karli, age 10.
Brother Jack, age 4
Brother Brodey, age 16 months
Mom Randi.
Dad Matt.
Stepdad Doug.
You can keep up to date on Karli HERE.
Next, this is adorable Aria…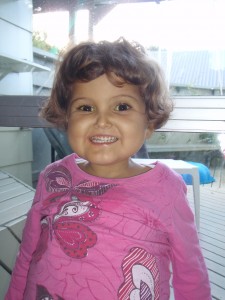 Aria is three-and-a-half years old, and comes from Manurewa, Auckland, New Zealand. Aria received her gift of life on the 6th of February, a small bowel, kidney, liver and pancreas transplant at the Nebraska Medical Center, in Omaha, USA.
Soon after birth she was diagnosed with a very rare condition of the bowel known as total intestinal aganglionosis or total Hirschsprung's disease. There is no cure and it means she will never be able to digest food.  Total intestinal aganglionosis is where there are no nerves cell throughout the entire bowel to squeeze the food along to be digested. Hirschsprungs is common where a portion of the bowel contains no nerves and can be fixed by removing the effected portion of bowel and reconnecting the healthy remaining bowel. Aria's form of the disease means this is not an option because there is no healthy bowel.
Aria's only hope of long term survival and a chance to eat rests in small bowel, liver, pancreas and kidney transplant. These organs have come from a single child donor whose family made a brave and difficult decision to donate life at a desperately terrible time. This operation is not done in NZ or Australia but the best place is America with the cost of $1-$2 million US dollars. It is still a risky operation but the odds of survival are getting better as advances in medical knowledge continue.
Aria's favorite color is purple. She loves Winnie the Pooh, Barney, Dora, and the Wiggles. Actually her little brother Asher likes the Wiggles and Aria tells us she likes the Wiggles for Ashie! She loves numbers and counting. She loves books, and reading is her favorite thing to do. Cooking and puzzles and painting are fun activities for Aria too.
The family includes:
Aria, Age 3 1/2.
Brother – Asher, age 2.
Mom – Anita.
Dad – Hamish.
Aria is a lovely, courageous little girl who handles the trials in her life amazingly well. Her life is a precious gift from God who is taking the MacDonald family on a journey according to His great purposes.
To learn more about Aria, visit her blog HERE.
I know it is a lot to ask you all to send in more cards.  I know it takes a lot of time, which is something we all are short on.  But it really seems that these cards have been magical for these children.  And, it turns out that the siblings love them, too.  Your cards are making a HUGE difference.  Thank you!
Thanks for listening. :)  Oh, and please spread the word as much as you can.  In fact, if you mention the drive on your blog or twitter, please link to it in your comment here.  I will pick a random person and send you some stamps.