Information on Copic Markers + Giveaway
I have been receiving a lot of questions about Copic Markers, so I decided to do a post on them.  Please keep in mind that I use them "my own way" and some of these points are just my opinion.  However, I will be sharing links to the "official" stuff, too.  Enjoy!
Copic Markers have been around for a long time in the architecture and art worlds.  They are high quality, long lasting (won't dry out for years and you can store upright or on side), color consistent, non-toxic, acid-free when dry, refillable and come in 334 fabulous colors. They are permanent (color your gems and buttons) but don't cross contaminate – you can't ruin one marker by touching it's tip with another. 
They are alcohol-based dye markers, which means a lot of great things. No matter how many times you color over an image, it will not cause the paper to pill.  They give smooth results (no more stripes in your colored images!) and the ability to blend.
There are four types of Copic Markers.  You can find info on each HERE, but I recommend the Sketch.  They are most common in the industry and come in the most colors.  I also like that they have a VERY durable nib in Medium Broad and Brush.  The brush end is soft, flexible and never frays.  Amazing marker.  Sketch markers also have an oval body, which prevents rolling – love this.  They can even be used in the airbrush system (more on that in a bit).  Here it is…

I do a have a few green pens in the Original Marker since they have a bullet tip good for coloring in tiny stems on flowers.  Here it is…

The Colorless Blender Pen is a must.  However, the name is a bit misleading.  It is not really a blender, but actually can be used to "erase" mistakes, make colors lighter, highlighting, push color, etc.  I promise to show you lots of techniques with it in the future.  Get it. 🙂
Copic also has some great glitter pens called Spica.  They have tiny glass flakes, offering a gorgeous sparkle.  They can be bought individually HERE or in sets HERE (my fave) and HERE.  (Regular Copics can be stored upright or on their side, but Spicas need to be stored on their side.)  Here is one…

Copic also has a Multiliner SP fine-tip pen in 10 different tip sizes.  I like to have the black 0.3 – it is fabulous, acid-free, archival safe, won't bleed with Copics, etc.  I use it for all my journaling, touching-up of stamped images, etc.  Here it is…

"Official" information can be found HERE from Copic.
TECHNIQUES
There are many techniques that you can use Copics for.  It is not just about basic coloring.  You can blend, create patterns, feather, etc.  I will be sure to share these with you on my blog via videos.  But I did want to mention that these aren't just markers that are wonderful for basic coloring.  There is sooooo much more.
COLORS
The Copic color coding seems complicated, but it really isn't.  And to be honest, you really don't need to pay attention to codes if you don't want to.  I tend to ignore them and use what I like. 🙂 But I will explain the numbers anyway. Here is the cap…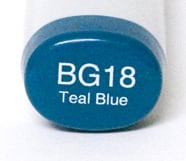 The Letter(s) – The letter in the code is the color family.
R = Red
YR = Yellow-Red
Y = Yellow
YG = Yellow-Green
G = Green
BG = Blue-Green
B = Blue
BV = Blue-Violet
V = Violet
RV = Red-Violet
E = Earth
N = Neutral, W = Warm, C = Cool, T = Toner

The First Number – This tells the color saturation or intensity.  Lower numbers are more vibrant.  Higher numbers are more gray.
The Second Number – This tells the color brightness.  Lower numbers are light.  Higher numbers are bright/dark.
This color coding system helps when picking which markers can be used together as a "natural blending group."  Look for markers with the same letters and first number.  So, B21 to B29 work great together.  When blending two markers, pick ones that are two to four digits apart.  So, B00, B02 and B05 would blend great.  Some colors don't follow this rule, but usually they do.
If you are getting started, I don't recommend just going out and buying random colors you happen to like.  To really get the most out of your Copics, you need to have 3 or 4 markers that can be used together as that "natural blending group" – various shades of a color.  So, if you want to start out with 10, for example, just pick a 3 of your favorite colors and get sets of them, along with a Colorless Blender Pen.
I get asked a lot about my favorite colors.  Now, keep in mind that I use Copics for bold coloring, not for a ton of shading or shadowing or softness.  (If you like softer, please check out advice from Debbie Olsen HERE.)  So my colors are bold.  If I really want lighter, I use my blender pen to pick up a darker color… creating a light color.  (I will share this technique later.)  You may want to add in a few lighter colors.  (ETA: You don't need to have as many Copics as I do to enjoy them.  Keep in mind – this is my job, thus having them makes a lot more sense.  I likely wouldn't have as many for a hobby! 🙂
People ask about my favorites – ones I reach for often.  Some are part of a natural color grouping, and some are just random good colors.  (Notice under Pinks I have some R's and some RV's.  Sometimes colors with different letters work well together.)  I have a lot listed here…

If you are looking to try out some, here are a few suggested color combos that I find fun to use together.  Remember, if you want a very light color, you would need to add that in, as I like more vibrant.
Another great option for starting out is to look at the sets HERE.  This is where I started.  I picked a price range and started my addiction. 🙂
As for refills, you can get them for every color.  However, I wouldn't get any right away.  I have yet to need to refill any of mine!
PAPER AND INK
To prevent bleeding of colors, it is important to use specific papers and inks with your Copics.  There are many options, but my favorites are Neenah paper and Memento ink.
Neenah Solar White cardstock works great with Copics.  You can buy it in packs of 25 sheets HERE, or by the ream (250 sheets) HERE.  I highly recommend the ream.  This is the white cardstock I use for EVERYTHING.  I use it to mat my photos… for regular stamping… for copics.  I just adore it.  Yum.
My favorite ink for Copics is Tsukineko Memento.  I use the Tuxedo Black ink HERE most, but all the colors work.  This ink makes me happy.   Here is the ink…
Something really cool that you can do with Copics is Airbrushing.  There are a few systems.  Two of them use aircans that can be replaced.  The other is a mini air compressor.  You just pop your Sketch or Original Copic into the handle, press the button and spray away!  It is great for sky's, etc.  I have the air compressor and will share it in future videos.  I am surprised how much I love it.
And, as collectors of stuff crafters, we need to know how to store these, right?  There are a few ways, but I prefer the storage units from Studio 3 HERE.  They are perfect and by far better than the many other storage options I bought and tried.  (I use the extra shelves for my white pens, refills and Memento Ink.)

By the way, since Copics are air-tight, you can store them on their side or upright.  Doesn't matter.
WHERE TO GET COPICS
When I decided to start buying Copics, I went to the craft store that originally "brought" Copics to the stamping arena – Ellen Hutson.  I did this for a few reasons.  First, I like to support the stores that help the industry.  Also, she has put a lot of information and tutorials out there.  (Check out the store's blog HERE.)  Finally, she has some great sets for sale that offer a wonderful place to start, while also carrying them individually.  She usually ships same day – which rocks my world – and has low shipping and free shipping for orders over $150.  Oh, and one more thing I like – she carries the paper I love most – Neenah.
I also like Eclectic Paperie.  They have great service, too, along with a lot of Tim's products that I love.  They also have a great blog and videos.
Another site that has good prices and service is McCallisters.  Their prices are a few cents lower. However, I am all about supporting our industry's stores (like Ellen Hutson and Eclectic Paperie) most.  But I have ordered from and love all three of these options.
RESOURCES
Here are some places for more Copic help:
Hope this helps to explain Copics a bit for you.  I will add additional information as I get questions.  Thanks!


ETA: Decided to giveaway a few markers that I accidentally bought two of.  In fact, they are three of my faves.  Just leave a comment here by Wednesday night 11:50pmEST telling me if you use Copics, want to try them, etc and I will pick a winner of these: