Dry Erase Book and a giveaway…
Happy Wednesday.  Just have a few things tonight… and a giveaway. 🙂
For all you cardmakers out there who love to help others, I have a link for you.  A kind angel is collecting handmade Christmas cards to raise money to help her nephew who is very ill.  Click HERE for more info – what a darling boy.  I will be sending lots in.
Next, I have received lots of questions about the dry erase book I had in Creating Keepsakes a month or two ago.  It is an American Crafts album (my fave) with the page protectors that came with it.  These page protectors (as do all) work great with dry erase pens.  So, I just create pages to put in the album.  I have a font that is for tracing and can create any words I'd like.  (Read more below on an easier way to create your own.  And, once again, forgive the poor photos.)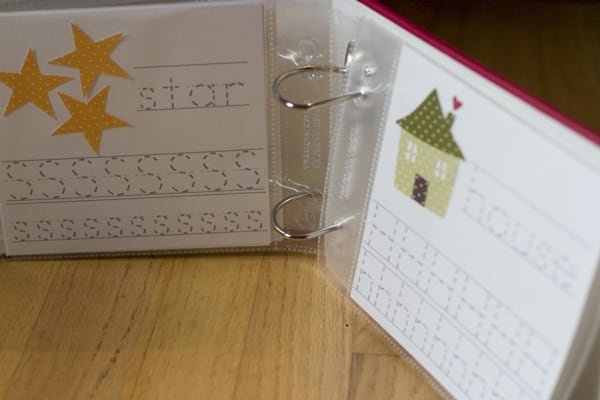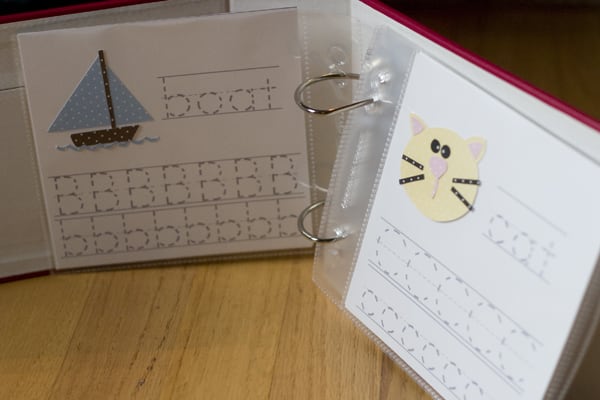 Here is after Colin did a bit of tracing…
We loved this book.  However, I have since changed our system so it is easier to take places.  I now have a full-sized binder that zips shut.  It is filled with office page protectors.  I print lots of different activity pages and put them in there.  Most I download from the internet, but some I create or tear out from activity books.  This way he can do the pages over and over.  (I hated that we pitched so many pages before this.)  This has worked so well for him – we are now using it for reading and adding stuff.  If you are interested in pages to download, click HERE or HERE.
So… giveaway time.
I love these albums from Cosmo Cricket and realized I had two extras.  So, I am sharing.  Just leave a comment here by Saturday night at 11:59pmEDT telling me your favorite fall meal.  (I need ideas.)  A lucky winner will get these babies…
Have a great night.