Due to my spazzy life the past few weeks, I am behind on sharing links to my Thinking Inking videos. I got emails from lots of people saying the counted on me sharing it here and linking them, so here they are…
Today I will share the rest of Week 6, which had some ideas for Dimensional Pearls, Liquid Pearls and Stickles. HERE is one on using them to paint.
Love the shine of Dimensional Pearls…
Here is the video…
Next up is HERE, with cool backgrounds.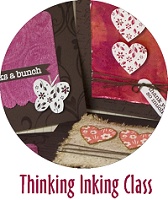 Distress Stickles in Antique Linen looks SO awesome spread thin on projects – like little specks of fool's gold…
I really recommend trying out these products. They are VERY inexpensive and they never seem to fun out. Gotta love that. We used the Distress Stickles in my classes at Stampaway and people LOVED them. Great product.
Hey, I have a question for you. If any of you have coached or spouses have coached t-ball, could you leave a comment here? I would like to ask a couple questions – no big deal. Was going to sign Colin up for it, but he doesn't like to hit off a tee – would rather someone throw it to him. He nails it everytime.
I will be back with more to share regularly now. I sure missed you all. Today I took a nap when Colin did – 3 hours. Heavenly. Ken has been telling me to get a new hobby, since my hobby turned into a job. And today I told him that I know what my hobby is going to be: napping. 🙂
Have a good night! We are grilling pork chops, roasting potatoes and steaming broccoli. The perfect meal.
Hugs.