Hi, everyone.  Kay, my sweet 14-yr-old girly, decided she wanted to take over my blog for the day.  Kay and I like to create together.  I always look forward to summer when we can go down in my studio in the basement for hours.  We often get what Kay refers to as "basementitis" – where we start to act goofy and loopy due to an overabundence of crafting time in the basement.  :)  I am very very very proud to be her "mum" (stepmom).  You will see why here… 

What's up? It's Kay, and I'm taking over an entire blog post for the day! As Mum's Personal Assitant, this is like a promotion for me, and I'm super excited. I wanted to start by sharing some of the cards from my class.
I got to teach a class at Stamp Your Art Out for kids, and it was soooooo much fun. I tried to make cards that weren't too girly, because there were two boys in the class, and the kids had a blast. The amount of creativity in the room was incredible, mostly because the kids were not afraid to make something that was nothing like the original card. I loved it! I tried really hard to make the class fun – we had "Story Time" whenever I saw something that made me remember something crazy I had done. Their favorite was the "Great Ink Pad" story, inspired by them leaving the tops off of the ink…
I trip over stuff, and drop things a lot, and a few days before the class I dropped an ink pad on the ground… and got black Staz-on ink all over my foot. Clearly, this is why I never moved up in ballet. And they don't call it "Staz-on" for nothing.
Anyways, it was a really big hit. They all told me I was the "best" and "coolest" teacher ever, and some of them were really excited for my next class there. So am I, believe me.
So here is the first card!  This card was really really really fun to make, because I just love the stamps. They're really modern, with "LOL" and cell phones, and either a popsicle or a computer mouse. The card design was inspired by one of Mum's cards (click HERE), only hers had animals on it and mine has a popsicle/computer mouse and a peace sign.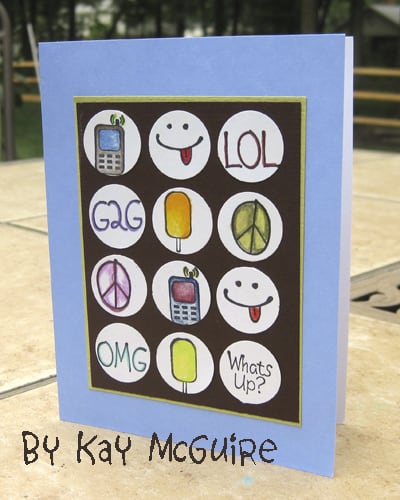 Card created by Kay McGuire – All products Hero Arts
This is my absolute, favoritest card EVER that I taught in the class. The colors were inspired by my Vera Bradley Wristlet (see HERE), and I love owls (and gems, one of my top five favorite products ever), so it was perfect. But my favorite part was the "You're so COOL!" stamp because that is something I say ALL the time. Again, this was inspired by one of Mum's.  (Click HERE to see.)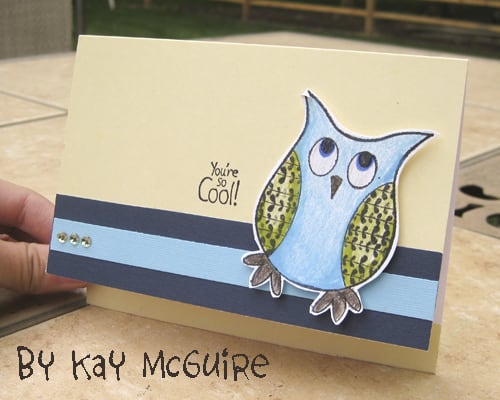 Card created by Kay McGuire – All products Hero Arts
This next card was fun, because the colors remind me of St. John. It also used two more of my top five favorite products ever, chalk and diamond Stickles. I really love the Diamond Stickles because they take on the color of whatever is behind it, thus eliminating the use for more than one color at a time. Plus they are a lot of fun to use. It also used clear stamping, which was really fun to teach because it's easy, and the kids just lapped it up. (Thanks to this class, I am now seriously considering being a drama teacher.  I bet I'd be good at it.)

Card created by Kay McGuire – All products Hero Arts
Another fun card. (What card isn't fun though?) I loved it because, first, it had a cupcake, and second, it got to cut a card in half. I really love the colors too, which were inspired by a picture on the wall.

Card created by Kay McGuire – All products Hero Arts
*Special Kay Tip* If you have a color you love, but need colors to match, find an object that you love and use it as inspiration.
This next one was awesome to make and awesome to teach, because it had so much potential for creativity. The kids loved coloring the animals, as did I, and thought the colors were awesome. The card wasn't too girly or boyish which rocked, and the stars were fun. It used Pop-dots, which is another of my favorite supplies, and a corner rounder.

Card created by Kay McGuire – All products Hero Arts

Well, okay! This was fun. I'm currently working on attempting to edit another video, and I'm sure you will know when it's mine.
Until then, may you be as happy as a bird with a French fry. 😉
Kay (Age 14)