Want to meet an angel? And win a giveaway? :)
(Warning: This is a long post.  But keep reading – it is worth it. 🙂
Know any angels?
I know one.
Her name is Connie Williams.
She owns my local stamp store, Stamp Your Art Out.  And owns a stamp company called Verses Stamp Company.
Why is Connie an angel?  She is extremely giving.  She is constantly doing fundraisers to support Hospice. She is thoughtful in many ways.
So… a couple days ago, I got an email from her offering $100 to help pay to ship the cards for the Card Drive to Africa.  I was floored!  That will be so very helpful.  (I had intended to cover the costs of shipping the prizes and shipping the cards, so this was a nice gesture on her part.)
I encourage you to visit her online store.  She has all greeting stamps for every occasion… even those hard-to-find ones. Here are some cards I did with Verses stamps…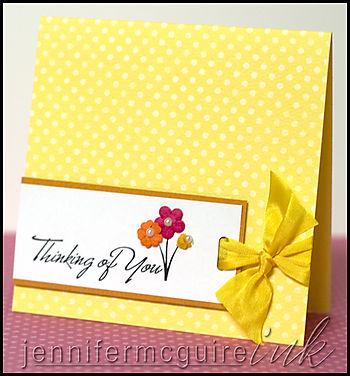 Supplies:
Verses Thinking of You Stamp (I covered the tops of the flowers with paper flowers)
Black Memories Ink
Doodlebug flowers
Hero Arts pearls
Bo Bunny paper
Stampin' Up punch
Creative Impressions ribbon

Supplies:
Verses Get Well Vertical Stamp
Hero Arts Bird stamp and gems and clear card
Black Memories Ink
Doodlebug flowers
Bo Bunny paper
Creative Impressions ribbon
Prismacolor colored pencils
(For a video showing the coloring technique on the bird, click HERE.)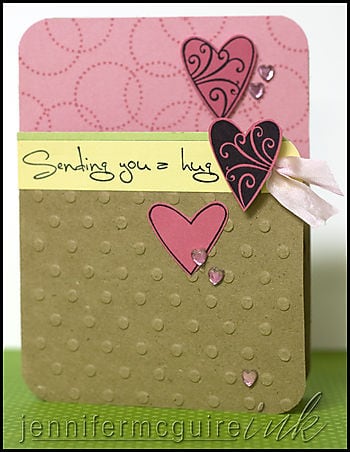 Supplies:
Verses Sending a Hug Stamp
Hero Arts heart stamps (hearts and circles), notecards and gems
Cuttlebug Embossing
Black Memories Ink
(This card is short on the front. The top of the front half is at the green line. The pink is on the inside of the card.)

This one I have shared before, but it has a Verses stamp…
Supplies:
Verses Thoughts and Prayers stamp
Making Memories, Bo Bunny and Scenic Route papers
Hero Arts pearls and flowers and notecard
Creative Impressions silk ribbon

Here are some of my other favorite Verses stamps:
She also has cool card and envelope templates HERE. This is my favorite…
And $2 rub-ons?  Woohoo!  Look HERE.
Thanks again, Connie.  This world needs more angels like you!
Now… time for a giveaway!  Connie gave me a few stamps to give as prizes here.  So, leave a comment telling me what your favorite greeting message is (can be as simple as "thank you") on this post by Thursday at 11:59PM and I will pick TWO winners of theses TWO stamps:
Oh, and a big thanks to a few others, including Cass and Jill, who have sent a bit of money to cover the shipping costs.  I appreciate it more than you know! 
Come back tomorrow – it's Card Drive Prize Time! 🙂
OK… off to veg a bit!