Woohoo! Here are the prizes!
I am so excited. I finally went through all the prizes for the Card Drive! And there are 10 good ones. And, I am guessing, I will probably add more. 🙂
Remember: For each card you send in for the Card Drive, you get an entry into winning one of these prizes. The deadline is August 1. (For details, click HERE.)
Here are the prizes!

Prize 1: Goodies from the Scrapbook Bakery! (Please visit Heather's site HERE. Her support in this ROCKS and she made LOTS of incredible cards for the kids. She put so much thought and time into them. If you want to see all the awesome cards she made, look HERE. Wow.)
Prize 2: A TON of Autumn Leaves Buttons
Prize 3: Stampin' Up Set and Ribbon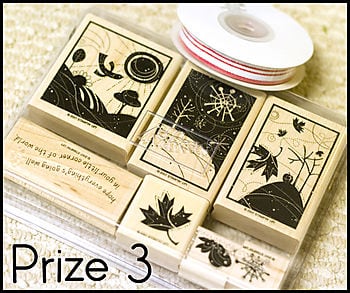 Prize 4: Lots of Chipboard Goodness (Bo Bunny, American Crafts, Scrapworks, Anna Griffin, Elsie)

Prize 5: A Mix of Goodies (Close To My Heart papers and inks, American Crafts album and shapes, MAMBI chipboard stickers)

Prize 6: A Bunch of Rub-Ons (Heidi Grace, American Crafts, Doodlebug, Autumn Leaves and Foofala)

Prize 7: Basic Grey Clear Stamps

Prize 8: Complete Alphabet Chipboard Letters (3 per pack, all A-Z, Hero Arts)

Prize 9: Autumn Leaves Clear Stamps

Prize 10: Autumn Leaves Clear Stamps
I am sure I will be adding some things. To keep track, I will be adding a Prize list over on the right sidebar.
Oh, and I haven't added all the names to the participants list. I have A LOT to add – hope to do that tomorrow.
And – I can't believe I am saying this – Deanna is crazy! Jason was perfect. So not what I expected. I hope Jason is the next Bachelor. He reminds me so much of Ken.
🙂
Night!