Hey!  Had a few questions I thought I would answer.  And, along the way, I will share a page and two cards.
Q: I have a quick question about that Ranger inking tool you use- how often do you change the (foam)inking part…do you have to have a different one for different colors? Thanks!
A: This is one of my favorite tools.  And, even if you aren't into distressing, it is a fab tool for inking.  Nothing gives better, more-even results.  I have a video coming up in a few days showing an example of using it in a non-distressing way.  But this is it.  And yes, I have two packs of the replacement foam applicators so that I can use one for every color.  Works great. 🙂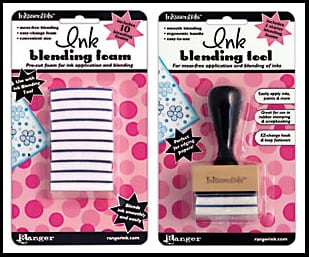 Q: Love the card – how did you do the stamp?? Did you use markers before stamping? Or use a white ink and then color in with watercolor pencils?  (This is from the previous post.)
A: I should have explained it, huh?  Sorry!  I stamped it in solid pink.  Then I drew over the body with brown pencil.  I added yellow in the holes on the wings.  Finally, I added red shading.  Easy as can be! :)  Here are two cards using that same technique of using colored pencils to enhance stamped images.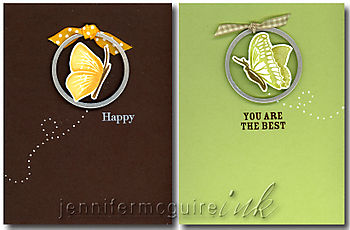 Supplies:
Hero Art butterfly, notecards and clear tags
Colorbox Chalk Ink Pumpkin Patch
American Crafts rub-ons (the best)
Ranger Inkssentials white pen (although I also like to do butterfly trails by poking holes)
Prismacolor colored pencils
Other: ribbon, pop dots

Here is another example.  This went up today on 2peas.  It shows Close To My Heart products and colored pencil shading.  Click on if for information and supplies.
Q: I was just wondering, can you cut any clear stamp? Or just the ones from hero arts?
A: You can cut any clear stamp.  Basically, you are cutting on the extra plastic – not the raised plastic that stamps.  So, you can't hurt them by doing this – I promise! :)  As far as quality, I highly recommend stamps that are made in the USA.  They are made with a completely different material than almost (if not all) that are made in China.  The US ones are much better quality, stamp much better and will last longer.  Also, the China ones contain a known carcinogen.  (Or so I have been told.)  So, I prefer US ones.  There are many companies who do US ones… most are from stamping companies.
I will be back tomorrow to answer more questions and share a video.  Have a great night.