… at heart still.  I completely forgot to pick a winner for the stamp set from last week!  Der.  I am so sorry.  But better late than never.  The winner of the Close To My Heart stamp set is Holly!  I will email you. 🙂
Hey… if I owe anyone a prize or CD of Keith's and you haven't gotten it yet, please email me.  My greatest fear is that something gets lost in the mail and someone never gets it.  Would hate for that to happen!
A few random things…
On my post from yesterday, a few people asked what white pen I used.  It was the white Sharpie pen.  Worked pretty well.
Someone also asked if you can use Cuttlebug embossing folders with the Big Shot.  I believe you can.  I would recommend doing a google search – there is likely even a youtube video on it.
I have gotten emails about the yummy silk ribbon.  It is from Creative Impressions – I believe you can buy it from their site!
Want some amazing inspiration?  Be sure to watch Hero Arts Blog this week.  Shari is sharing some amazing stuff.  Wow.
Just a quick card share using a new Hero Arts stamp.  I did this for the catalog work but didn't like how it turned out so I never sent it in. :)  It is a transparent Hero Arts card over a Chocolate Hero Arts notecard.  Yum.  Love that look.  (The card just took a turn for the worse when I started embellishing… hee. 🙂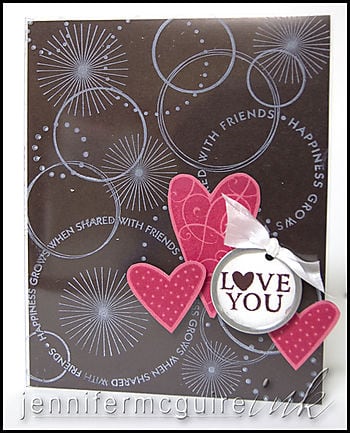 Supplies:
Hero Arts stamps (background, hearts and greeting), clear tag, clear card and notecard
White Staz-On Ink
Artprint Brown Ink
Primary Chalk Ink
Creative Impressions silk ribbon

I think that is all for now.  Have to go work on gathering photos for holiday pages for Hero Arts!  So hard to do when today was the most beautiful summer day…
Night!