I love learning of new stamp companies. After all, it is a sign of the craft industry growing and thriving!
One of the newest companies is Waffle Flower from the talented Nina Yang. Waffle Flower has some playful and unique stamp sets and dies. You can find there products HERE on their website. (Be sure to check out their Mailable 3D Bow Die. So clever!)
I used the new Waffle Flower Bowtiful and Rock My World stamp sets to create some fun cards for my kids. I am a *big* advocate of giving kids surprise notes often to make them smile. Sometimes I leave them on their bed. Sometimes in a lunch box. (And often times in the mail to our oldest in college!) These new stamps are perfect for kiddo cards. Playful, simple and happy.
First up? For Audrey and Kay…
For a bit of dimension on the bows, I used a two-tone stamping technique. I first stamped them in WPlus9 Sweet Gelato (pink) and SSS Audrey Blue inks. I then inked the image again with a darker ink (Hero Arts Rasberry Jam and SSS Island Blue) but wiped the ink away from the outside edges of the bow and stamped right on top of the first images. This gives a darker shade at the bow's center. (You can see this technique in action in THIS video.) I also covered the bows with Wink of Stella for shimmer and shine.
I also created a couple cards for Audrey and Colin. I simply stamped the rocks with Hero Arts Soft Granite Ink and then did the two-tone stamping technique with the same ink to make it darker on the right side. I gave my rocks the look of texture by taking my Copic Colorless Blender pen and adding dots and lines. (The Colorless Blender pen "moves" the Hero Arts Shadow Inks and changes it slightly. So very cool.) I then added a small die cut heart and covered it with Wink of Stella and Glossy Accents.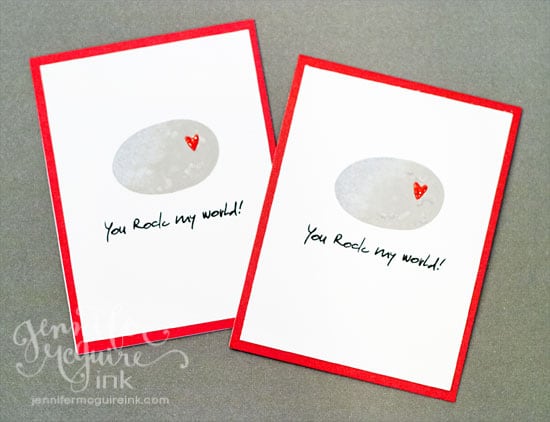 Do you make cards for your kids or little friends? They are always my favorite to make for three big reasons: I can keep them quick and simple… I can make mini cards… and the kids always appreciate them.
See you soon!
SUPPLIES