It's a big day at our house.  My dear husband turned the big 4-0 today. :) 
Here is the card Colin made.  He loves to stamp and then color in the holes on the letters and trace the lines…  (Yes, he did stamp that – he is a stampin' pro.)
And here is what I made for Ken as a gift from me.  I originally had planned to get a nice hammock for our backyard, so we could dream of doing THIS.  But then he talked about wanting a nice new watch.  Then I thought a night away out of town would be fun.  So, I decided to give him a stack of money and let him pick which of the three things he wants.  I went to the bank and asked for a bunch of ones.  (That stack of money looks like a lot but it isn't at all – they are all ones. :)  Then I cut thin paper strips and wrapped the dollars together.  The clipart on the top are from Microsoft Clipart.  (I just remembered that from my old PC days in college.)  And here it is…
Oh… and he picked the hammock.  I am glad he did.
Here is the card I did.  Wanted to do something different and funky, with a photo included…
So… what about TWO giveaways?  Just leave a comment here telling me your best birthday memory.  On Thursday at 11:59pmEDT, I will pick TWO winners.  One will win the Stampin' Up Scallop Circle Punch and the other will win the Stampin' Up Scallop Border Punch.  You know how much I love these – been saving these extras for a fun giveaway.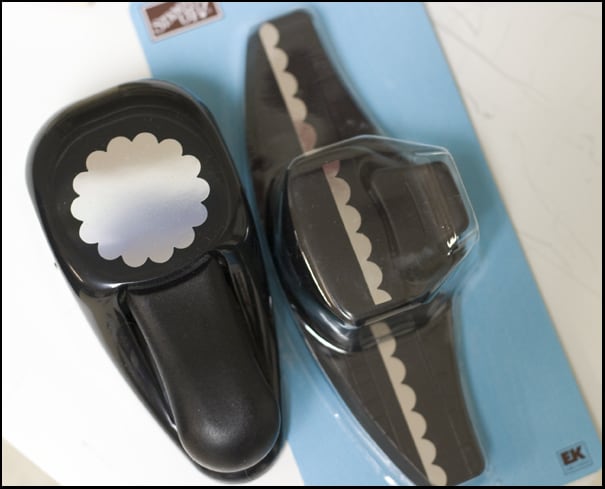 OK… The Bachelor.  Where to begin?  I have to share something a funny gal named Kristi commented.  This made me crack up – the whole "sticker" thing.  Ha!  Here is her comment…
I am wondering what sort of creative editing has been done with the whole Deanna thing. They've got her saying "I made a mistake…you haven't proposed yet," to make it look like she's there to ask him back, when she could really be saying: "I made a mistake when i used stickers on my early layouts. If you love her so much, I am wondering why you haven't proposed yet." They always edit it to make us so suspenseful.
That cracked me up. :)  Anyway, I think it will be Melissa, too.  But I seem to always get them wrong! 
Off to relax.  Night.